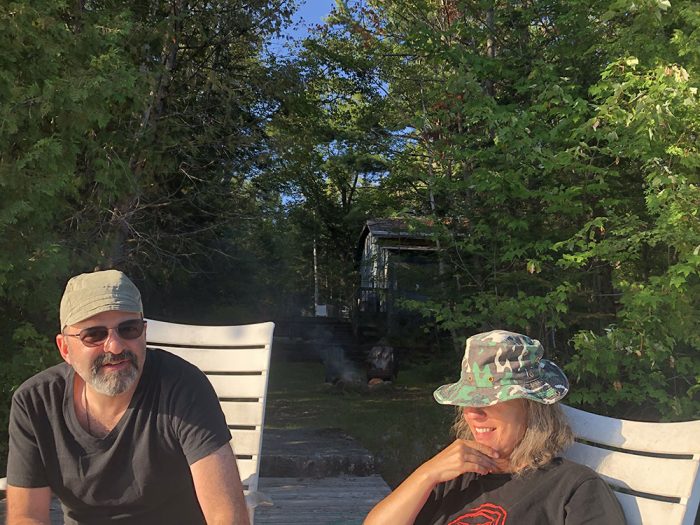 In the summer of 1996, Æ was initiated as an artistic research unit based on a philosophical exchange between artists Gisèle Trudel and Stéphane Claude, with the regular participation of other collaborators. Ælab's commitment to collaboration and creative dissemination are ways of thinking and doing that try to bridge different fields of inquiry. Their process-oriented investigations creatively engage art and technology as intertwined with processual philosophies in an ecology of practices. Their work is presented regularly.
Gisèle Trudel
is an artist. She is also professor at the École des arts visuels et médiatiques, Université du Québec à Montréal.
Canada Research Chair in the arts, ecotechnologies of practice and climate change (2020-2025) ;
Research member, Hexagram (2004- ) ;
Research Associate, Centr'ERE (Centre de recherche en éducation et formation relatives à l'environnement et à l'écocitoyenneté) (2020- ) ;
Co-Chair of Programme ICI conferences, UQAM (2017-  ) ;
Co-Chair of LASER Hexagram Montreal (2014-  ) ;
Co-founder of Grupmuv, research group for drawing and the moving image (2008-2017) ;
Co-Director of Hexagram, the International Network for Research-Creation in Media Arts, Design, Technology and Digital Culture (2012-2015) ;
Director of Hexagram-UQAM (2011-2013) ;
Co-Chair of Re-create 2015, the 6th edition and the 10th anniversary of the international Media Art Histories Conference series, hosted by Hexagram in November 2015.
Stéphane Claude
is an electronic_acoustic composer and sound engineer.
 He is Head of Research, Audio Sector, at OBORO.
 His research is based on integrating a conceptual and physiological framework of audio recording and sound installation for different diffusion contexts in the electronic arts. His interests gravitate around the communication of a formal aesthetic, of a transductive experience of the electronic medium, an exploration of digital signal processing, the parameters of acoustic and sound in spaces. His work has been published by DER (US), ATAK(JP), LINE (US), ORAL (CA), among others. As an audio consultant, he participates in the conception, production and integration of presentation spaces, of specialized analog and digital creation and production studios for artist run centers, institutions and independent sites.
Photo en haut à droite : Ælab à Chertsey, Qc, 2019. Crédit : Geneviève Trudel
Ælab à l'Usine C, Montréal, 2009. Crédit : Jacques Perron