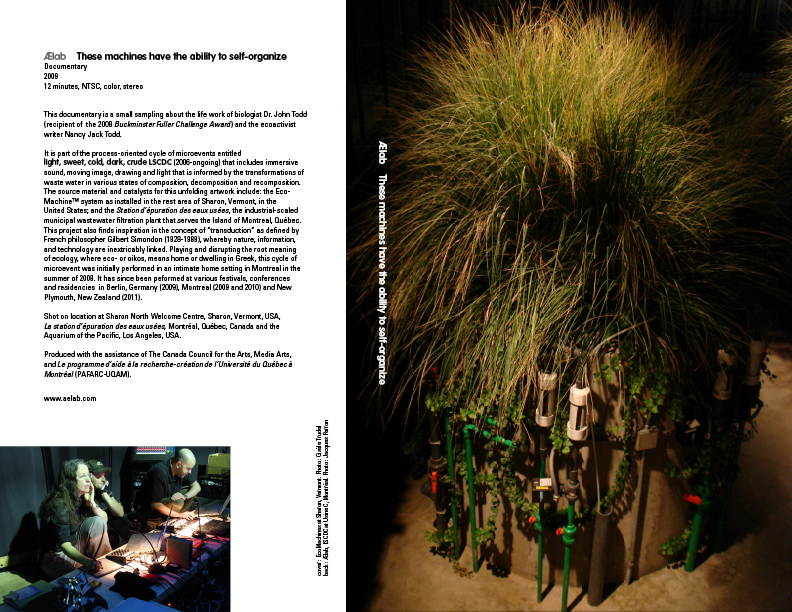 These machines have the ability to self-organize
2009
Documentary, 12 min, color, stereo
Original English version with French subtitles
This documentary is a small sampling about the life work of biologist Dr. John Todd (recipient of the 2008 Buckminster Fuller Challenge Award) and the ecoactivist writer Nancy Jack Todd.
It is part of the process-oriented cycle of microevents entitled light, sweet, cold, dark, crude LSCDC (2006-ongoing) that includes  immersive sound, moving image, drawing and light that is informed by the transformations of waste water in various states of composition, decomposition and recomposition.
Credits
Documentary segment, interviews with Nancy Jack Todd and John Todd
Jacques Perron _interview camera (video, photo)
Stéphane Claude_interview sound
Gisèle Trudel _interview, editing
Catherine Béliveau _English transcription
Jacques Perron _French translation
Presented in
Berlin, Germany (2009)
Montreal (2009 and 2010)
Govett-Brewster Gallery, New Plymouth, New Zealand (2011)
EcoBio Festival, Prague, Czech Republic (2011)
Produced with the financial assistance of the Canada Council for the Arts, Media Arts 
and PAFARC-UQAM (Programme d'aide financière à la recherche et à la création de l'Université du Québec à Montréal).